SWISSPACER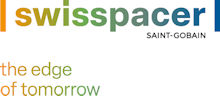 SWISSPACER adds La Defender Pico balustrade to its range of premium solutions for glass
Leading warm edge spacer bar supplier SWISSPACER has extended its range of innovative solutions for glass in the UK with the launch of La Defender Pico, a slimline balustrade system designed for residential applications.
La Defender Pico combines stylish looks with easy, one-sided installation. Measuring just 62x75mm, it is an extremely strong balustrade system, tested to a 300kg/metre linear load and accredited to BS6180 for glass barriers inside and outside buildings. The system's continuous gaskets maximise performance through the glass and its anodised aluminium cover offers enhanced durability.
John Cooper, Commercial Director of SWISSPACER UK & Ireland, says: "La Defender Pico is the latest product in our new range of premium glass solutions. This slimline balustrade system adds a sophisticated touch to properties and it's also incredibly strong and durable. La Defender offers easy, one-sided installation so it's a popular choice with installers too."
La Defender Pico joins La Pensilina, a cantilever, load-bearing glass canopy system. Designed for outdoor use and installed above entrance doors or sliding and folding patio doors, this stylish, minimalist design is ideal for residential and light commercial applications. These innovative new products are made by Logli Massimo, part of the Saint-Gobain group, which specialises in high performing systems and accessories for the fixing and assembly of glass panels.